This handy open tuning chord manual gives guitarists working in standard tuning a basic introduction into open tune playing. Though commonly used for slide playing open tunings have become increasingly popular for their unusual and rich voicings.
The book contains chord shapes for over 300 chords in the two most popular tunings – Vastopol (or Open D) and Spanish (or Open G) – with a page per key. For example, turn to page 17 and there are twelve chords in Open D tuning in the key of G – major, minor, 6th, dom 7th, diminished, augmented, minor 6th, major 7th, minor 7th, 7th sus 4, 7th flat 9 and 11th.
The book includes a short history of the origin of open tuning, tips on tuning and string set up, a glossary of favourite chords and recommended listening plus music scores for four popular songs using chords in Open G & Open D.
It's shape 30 cm x 10cm (12 inches x 4 inches), makes it a snug fit in the neck of a standard guitar case.
Since 1994 it has found it's way into the guitar cases of musicians like David Bowie, Peter Buck (REM), Lee Ritenour, Arlo Guthrie, David Hidalgo (Los Lobos), Paul Kelly, Paul Weller, PJ Harvey, Murray 'Red Wiggle' Cook, Lloyd Cole, Tim Rogers, Chris Cheney (Living End), Daniel Johns and everyday guitarists from Ireland to Lithuania.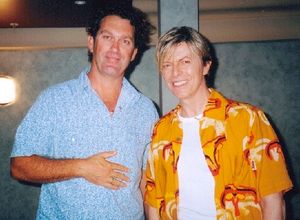 "What a super book, this is such fun. I could use this for the next album"
David Bowie